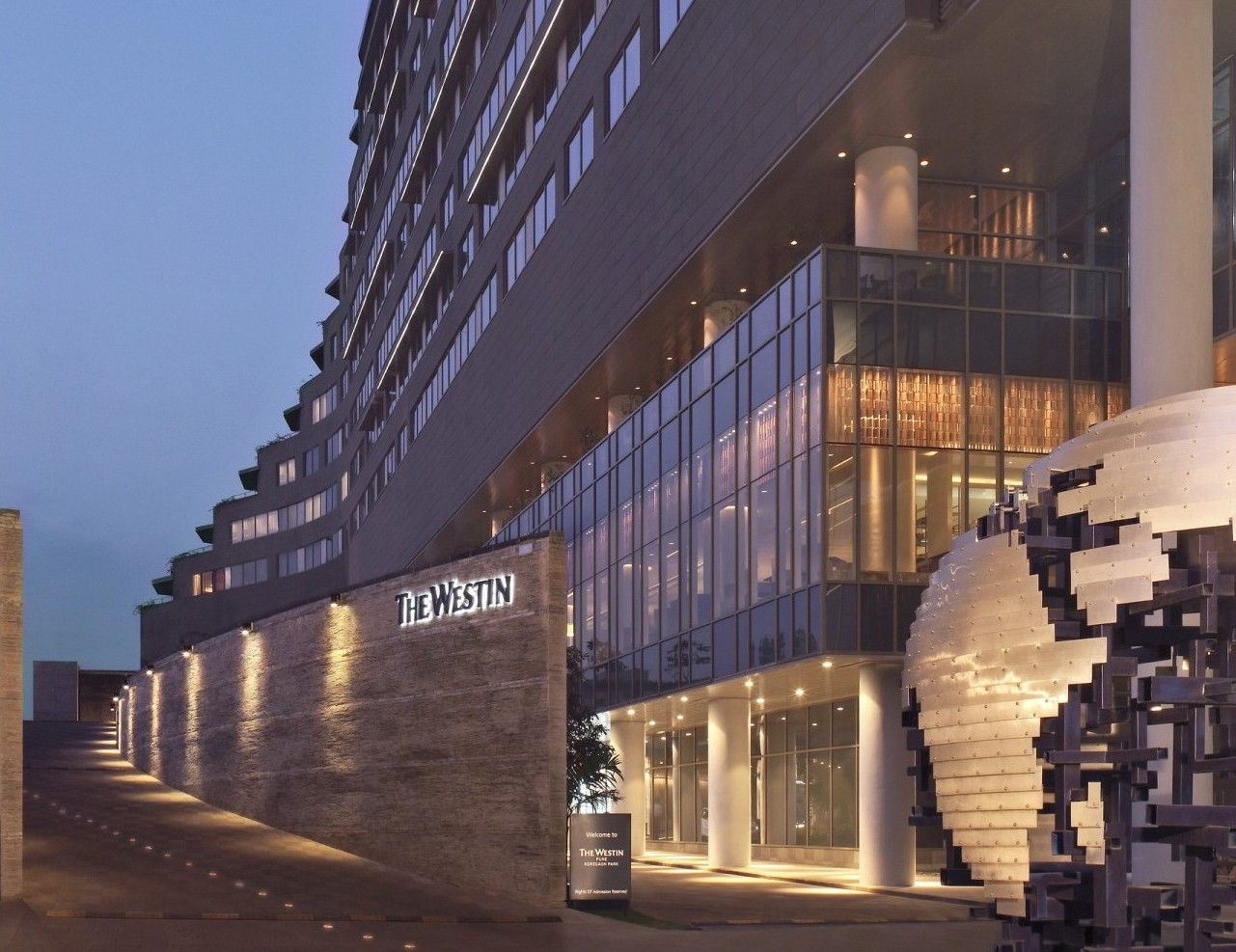 Alcohol Policy
The hotel prohibits the consumption of alcohol in public areas, besides those designated in conjunction with local law. Alcohol will not be served to guests under the age of 21 years. Alcohol brought from outside may only be consumed by guests in the privacy of their own rooms. Dry days as observed by the local law shall be adhered to by the hotel. For meetings and events, separate licences may be required for the serving of alcohol.
Baby-sitting / Child Care Policy
The hotel does not provide child minding or child care services. However:
The hotel will assist guests in locating an independent third party service provider for the same. The hotel will not be liable or responsible for the services rendered by the third party.

Westin Kids Club® as operated by the hotel is a daycare facility for children between the ages of four and twelve years. Usage of this service requires a signed child care waiver.
Cheque Acceptance Policy
The hotel will not accept any personal cheques unless prior approved by the management has been arranged. Demand Drafts and Banker's Cheques are the only acceptable negotiable instruments.
A valid PAN Card has to be presented along with any cash payments above INR 25000.
Currency Policy
Please note that all prices are quoted in Rupees (INR), do not include taxes or gratuities, and may be subject to change.
Our foreign exchange services are only extended for in-house guests who have provided valid passport details. For exchange of currency more than a $500 USD equivalent, a photocopy of the guest's tourist visa and passport will be required.
Early Departure Policy
Guests will be asked to confirm their departure date upon check-in. If the rate plan permits, guests may be able to change their departure date without penalty on the day of arrival. Guests departing prior to the date confirmed at check-in may be charged an early departure fee.
Facility Use Policy
Use of recreational facilities, such as the pool, gym, squash courts, and spa, is governed by minimum age requirements. As a general guideline, these services can only be used or requested by adults of 21 years and above. Please contact the hotel directly for more information.
Gift Certificate Acceptance Policy
All services as mentioned in the gift certificate will be rendered subject to availability; prior reservation and confirmation; presentation of the original gift certificate prior to availing of the service(s); and presence of the certificate owner with valid proof of identification. Any services provided apart from the ones mentioned on the certificate will be charged as applicable and must be paid for prior to departure. Gift Certificates cannot be combined with any other promotion(s), discount offer(s), or limited period benefits.
ID Requirement
Photo Identification is required at the time of registration to secure accommodation for all guests.
Meeting Room Policy
Prior reservations are required for any meeting or event. A contract must be signed and accepted; thereafter, any cancellation will be subject to the applicable cancellation fees as per the relevant policy.
For a cancellation of less than 30 days prior to commencement of the function, a charge of 100% of the expected bill will be incurred. For a cancellation between 30 and 60 days prior to the event, a 50% charge is incurred, and for a cancellation made within 60 to 90 days prior to the event, a 25% charge is incurred.

If an event is scheduled within 30 days, a payment must be received within four days of signing of the contract. However, a grace period of 48 hours for cancellation is allowed. Any cancellation thereafter will levy 100% of the expected bill.
Damages if any to hotel property arising out of the use of the venue will be charged as per hotel policy.
Occupancy Policy
The number of guests occupying the room will be same as that at the time of registration. In the event of changes to the number of guests, the hotel must be notified. If applicable, any addition or reduction of charge due to this change will be applied by the hotel.
Admittance Policy
The hotel reserves the right to deny admittance on its premises. This includes the right to decline guest or vehicle entry, staging of events and functions, inbound material, as well as other items or materials in light of security considerations, local law, and hotel policy.
Parking Policy
Valet parking is available free of charge for all in-house and visiting guests. Parking is at owners' risk. Overnight parking is available only for in-house guests after stipulated security checks. The hotel is not liable in the case of theft of or damage to any parked vehicle(s).
Pet Policy
The hotel does not allow pets on the premises.
Privacy Policy
For guest security reasons, all rooms will be serviced once every 24 hours for occupation and usage. Duplicate keys to the guest room will not be issued without the presence of the registered guest(s), and only after presentation of valid photo ID.
Group Reservation Policy
For confirmation of group and convention reservations, an advance deposit for the minimum guaranteed attendees for an event or the minimum room nights must be paid at least 15 days prior to the event or first arrival. Please see "Terms & Details" when acknowledging/signing the letter of agreement.
Restaurant Policy
We recommend prior reservations be made at all restaurants and bars to ensure timely seating. The hotel reserves authority to grant admission to all restaurants and bars.
Security Policy
The Westin Pune Koregaon Park will follow necessary protocols to help ensure our guests' security:
All guest and visiting guest cars will be stopped and screened, including a check of the boot space as well as an under-carriage inspection. Please refer to our parking policy for more on parking and valet-related rules.

Under certain high-alert circumstances, physical frisking and patting down may be employed by hotel security.
No unauthorised visitors will be allowed on guest floors. No visitors are allowed on guest room floors beyond 9pm.
Commercial escorts are not allowed at the hotel, and legal action may be taken in such cases.
The hotel reserves the right to place a lien on guest baggage in the event of non-payment for services availed.
Under high alert circumstances, the hotel may deploy canine units strictly as a security measure, if necessary.
Smoking Policy
Smoking is allowed in designated smoking areas and identified smoking floors only. Sale of tobacco to minors under the age of 18 is not permitted.